Recover PST Contacts Lost Due to Corruption after Running Windows Error Checking Tool!
Windows Error Checking Tool: This Outlook Contacts Recovery software enables you to Scan a selected hard drive to search and fix the following Errors:
System errors in the drive: Windows Error Checking tool automatically finds and fixes system errors.
Bad sectors in that drive: With constant use of storage media, bad sectors start to come on it. These need to be fixed otherwise it can cause inaccessibility of data stored on those bad sectors. The Error Checking tool repairs these bad sectors & prevents your data.
PST Corruption after Running the Error Checking Tool
Sometimes, when the process remains unsuccessful, this Error checking tool can damage some of your important files like Outlook PST contacts files. After executing this Error checking tool of Outlook Contacts Recovery, it is also possible that the size of your PST file may reduce to 0KB. It is a rare but possible happening. It might even happen that when you start Outlook, you can see the error message stating: "The xuz.pst file cannot be opened." After this error, when you check the size of your PST file, you may find it to be reduced to 0 KB by Outlook Contacts Recovery Utility.
Possible Grounds of This Issue: The possible cause can be that when the Error checking tool performs operations like re-indexing, relocating objects, etc, PST files get damaged, sometimes.
Most Appropriate Solution- Address Book Recovery Software!!
First Way of Solving the Problem – In Built Tool: For Outlook contacts recovery, you can take help from another Windows tool, scanpst.exe, which is a freeware email repair application that comes with Microsoft Outlook application. Perform the following steps for searching process:
Go to Start - Search- For Files and Folders
Click - ScanPST.exe
Type Name of PST file and click on "Browse" button.
Scanpst.exe will appear in the list of searched items. Execute the following steps to use this scanpst.exe tool for Outlook Address Book recovery: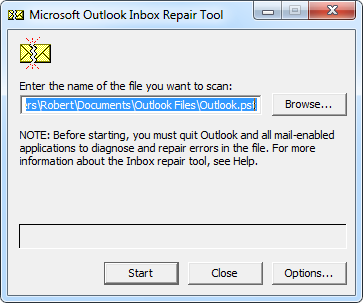 Click to Start button to start Scanning Process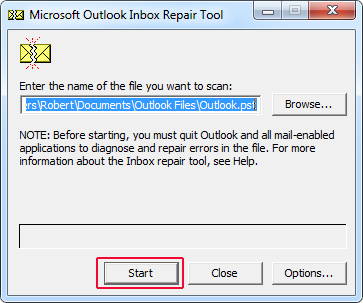 You can get more detail by clicking "Details" button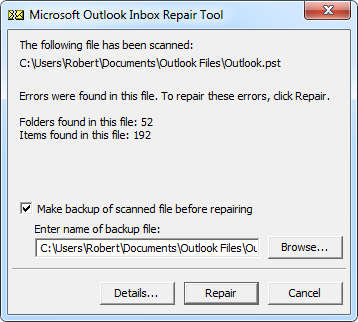 You can Create backup here, after that click on "Recover" button.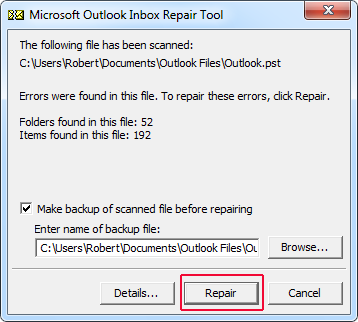 Another Possible Way of Solving the Problem – Third Party Tool : In cases while, scanpst.exe fails to Repair corrupted PST files items . At that time, You can choose third-party utility like Address Book Recovery Software, that can helps you recover MS Outlook PST/OST file contacts, This tool is designed by technical experts together with skillful data recovery professionals to help you perform PST contacts recovery efficiently.
---