Working Step of Address Book Recovery Software
Most Reliable Address Book Recovery Software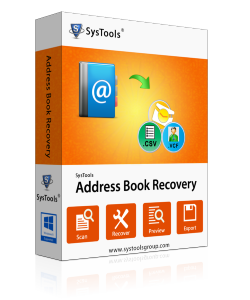 Need to Repair lost contacts from corrupt or damaged Address Book? Obtain Address Book Contacts Recovery software for recovering of corrupt, lost or damaged address book of MS Outlook.
While working with computer system, we used to have email accounts and maintain address book to store important emails, information, contacts of vital clients, friends. Using emails one can exchange information quickly. Email Sytems fills the gap between the two persons or groups of different place. MS Outlook and Exchange are the most popular email clients.
But, these email clients may get corrupt creating serious problems. As email clients get corrupt, contacts or address book of those email clients get inaccessible which effects your business very badly, your whole business transaction can get stuck.
At this, Address Book Recovery is the Solution.
Address Book Contacts Recovery application is the most reliable contacts recovery program, that helps you to recover lost contacts from corrupt or damaged Address Book files of MS Outlook, Outlook Express and MS Exchange Server (.OST).
MS Outlook Contacts Recovery
Address Book Recovery program perfectly Recover Contacts from Outlook (.PST file) (Personal Storage file) without affecting original data.
This tool gives you Finest opportinity to Fix Outlook errors.
Advance Features of Address Book Recovery Software
Address Book Recovery Program is a feature enriched utility. Here are the some most effective features of Best Address Book Recovery Utility:
Convert Address Book to PST file: This feature permits you to frequently convert addressbook files of MS Outlook and Exchange to both format of PST file. ANSI that support PST file of size 2 GB, as well as UNICODE that support PST file up to 20 GB even you can extent limit in it to some extent.

Convert Address Book to vCard format: Software allow users to convert address book files of MS Outlook and Exchange to VCF (virtual contact file). As by converting Address Book contacts to VCF format you can used it on Windows, Mac Operating system as well as it can directly uploaded on iphone mobile of user.

Convert Address Book to CSV File: Software allow users to convert address book files of MS Outlook and Exchange to CSV file. As CSV is a most simple file format widely supported by business, cosumer and scientific applications. CSV format works as most of the program support it as alternative import/export format.

Retained Contact Details: It's data retention ability renders PST contacts assurance details being conserved unblemished throughout the procedure. In other words you can say that Address Book Recovery software provides completely safe and advance contact recovery process in a flawless manner

Easy User Interface: Address Book Repair Software offers easy, simple and new GUI (graphical user interface)so that both technicaly voice and novoice person can recover and restore their address book contacts of MS Outlook and Exchange in differ file format like VCF, CSV and PST without putting an addition effort.

Supported versions: works smoothly with all available versions of windows like: 98/Vista/NT XP/2003/Win7 and Win 8 (both x32 and x64). MS Exchange versions as 5.0/5.5 2000/2003/2007 & 2010 or 2013 and Microsoft Outlook like as 97, 98, 2000, 2003, 2007, 2010 and 2013 (both 32-bit and 64-bit).


Frequently Asked Questions
What are the Features Offered in Address Book Recovery Software?
Address Book recovery software is chiefly intended for recovering of deleted or lost contacts information from damaged address book. This tool will allows you to automatically regain lost contact details and its shows preview of recovered contacts in alphabetical form.
Demo version of Address Book Recovery Software, how many PST files can I recover?
With the help of Free- trail version of address book recovery software allows you to recover 15 PST/OST contacts per folder. After getting done recovery process, user can easily view preview of recovered Contacts.
Can I Convert Contacts into Different Formats?
Yes, you can easily convert your contacts into PST, VCF, CSV file formats without facing troubles.
How can I see the location of Recovered Outlook Contacts after getting Recovery Process done?
Address Book recovery software provides you opportunity to save all contacts into desired location. It gives you a pop-up screen, where you decide the location of contacts where you want to save , after getting recovery process completed.